Timetable of office hours
Mon
Tue
Wed
Thu
Fri
Sat
am 9:00-12:00
○
○
○
○
○
○
pm 5:00- 7:00
○
○
/
○
○
/
Timetable of home visit medical service hours
Mon
Tue
Wed
Thu
Fri
Sat
pm 1:30- 3:00
○
/
○
/
○
/
Self-introduction
Mitsuo Shiomi M.D.
   I graduated from Hyogo College of Medicine in 1981. I trained with Hyogo College of Medicine as resident physician by guidance of the Professor Takashi Shimoyama in the gastrointestinal division. Then, I researched Hyper Thermia which used the chemotherapy together. I learnt many by the process though the research did not succeed so much. In clinical medicine, I mainly treated digestive organ cancer and I treated the wide area at the same time as gastroenterologist.
   By the way, I say a few about my hobby. My favorite sports are swimming and tennis. My hobby is hiking on the weekend. My special skill is a kendo of traditional martial arts in Japan that started from the junior high school student. Let's fight heroically.
Introduction of clinic
   Shiomi clinic is the department of internal medicine, gastroenterology, and pediatrics in Abeno-ku, Osaka-city. I perform medical examination based on a primary care to elderly people from a small child. Moreover, I also perform special medical examination, such as liver, the pancreas, the stomach, and the large intestine, as a gastroenterology medical specialist or a gastroenterological endoscop medical specialist. As special functions, ultrasonography, gastroenterological endoscopy, polypectomy, etc. are performed.
Diagnosis and treatment guide
To receiving the upper gastrointestinal endoscope inspection
   Please visit the hospital on the day of inspection, without eating breakfast. Please stop smoking to the inspection end to suppress the secretion of gastric juices. Partial anesthesia of a throat is performed, injection for stopping stomach movement is performed, and an endoscope is inserted. An esophagus, the stomach, and the duodenum are observed, and if a pathological change occurs, biopsy will be conducted.
   Please do not swallow spittle during inspection. If saliva is swallowed, saliva is needed for the trachea, and it becomes stifling. Although a small crack will be made if a biopsy is performed, a crack is repaired immediately. However, the medicine of a green liquid with the effect to suppress a hemorrhage is administered.
   Please do not eat for about 1 hour until anesthesia of a throat awakes. Please do not do the risky work such as driving the car for about one hour after the inspection.

Polypectomy of the colon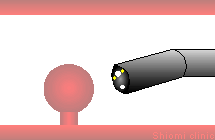 As for the diagnosis of the pathology of the colonic polyp, the possibility of adenom is high. It grows, and becomes a cancer of the colon when leaving it. A polyp is excised completely, observing with an endoscope. And, the kind of the excised polyp is examined. Even if fully careful, bleeding and punching may be rarely observed as complications. In a lot of bleeding, transfusion may be needed. In the case of punching, the operation which closes a punching part may be needed. Colon endoscopy and Colon polypectomy are the most effective methods in order to reduce death by colon cancer.
---